The Pink Star Walk was held in Wellington for the first time this year, the event is a 10km walk route taking walkers from Frank Kitts Park around the waterfront to Greta Point and back again, with a "family-friendly" 5km option available. Funds raised from the entry fee and sponsorship of the Estee Lauder Companies Pink Star Walk goes into research, including the Wellington Breast Cancer Register which gathers treatment and outcome data on patients throughout the region, rehabilitation for women recovering from mastectomy, and awareness of mammograms for early detection.
The Wellington VHF Group was asked to provide the radio marshall function to assist in assuring the safety of the participants in the event. Our radio marshalls are placed at strategic points along the route for the duration of the event, to provide trail guidance, administer first aid to any casualties, and co-ordinate medical aid, or ambulance, via amateur radio. Our radio net used the 710 VHF radio repeater.
The Wellington VHF Group organized a total of 6 marshalls, these volunteers were drawn from Wellington VHF Group and Wellington Branch.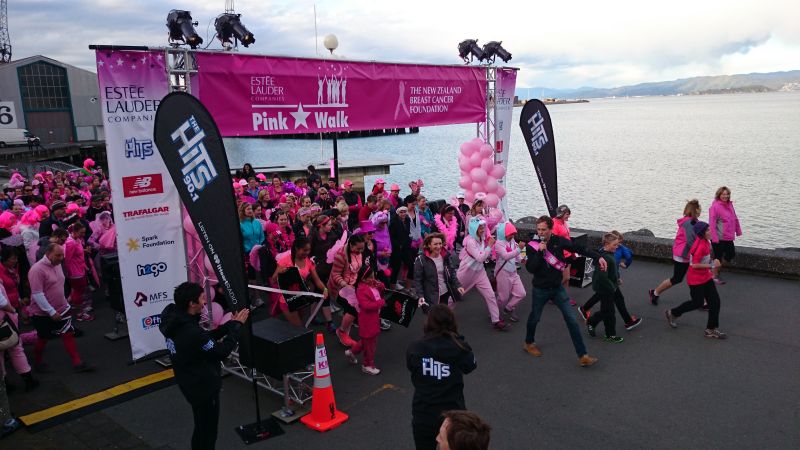 Participants starting the Wellington Pink Star Walk
Thanks are due to the six amateurs who volunteered their time to be radio marshalls for this event. They are: Col ZL2C, David ZL2SX, Frank ZL2TTS, John ZL2HD, Randall ZL2RJP and Rob ZL2WAL.