Bike the Trail, a popular recreational event, provides either a 25km cycle ride from Harcourt Park in Upper Hutt, or a 12km ride from Stokes Valley, down the Hutt River Trail to Hikoikoi Reserve in Petone. The ride is held annually and is designed as a non-competitive family cycling event promoting cycling as a fun, healthy, safe means of transport and recreation. Wellington VHF Group were contracted to ensure public safety during this event.
The event was originally scheduled to run on Sunday 4th March, however this was cancelled due to the effects of bad weather. During the previous 24 hours period Wellington experienced what the forecasters termed a "weather bomb". In the early hours of Saturday wind gusts of 134 km/hr were recorded in Belmont Regional Park, close to the site of our Belmont station, see graph below: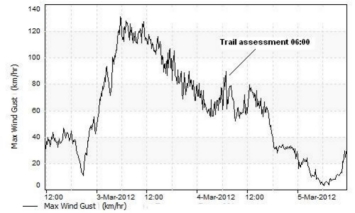 Over the course of Saturday and into the early hours of Sunday, the weather abated to 60 km/hr at 3:00am. The trend looked good. At 6:00am the Hutt River Trail Ranger carried out a safety assessment. However, also around this time the wind speed spiked again, reaching 89 km/hr. The ranger reported washouts, deposits of loose gravel, and some flooding on the trail, and advised the organisers that the trail was unsafe. So, the event was cancelled, and re-scheduled to run on 22nd April.
The health and safety/risk management policy for this public event identified a number of possible hazards to cycle riders. The role of the WVHFG Radio Marshals was to attend these sites to: provide trail direction and guidance; to identify and warn riders of the hazards; and to provide first-aid. Accident and emergency support was provided by Wellington Free Ambulance, and our Marshals worked in close contact with them.
Our Marshals were identified to the public by hi-viz vests, emblazoned "Amateur Radio Communications". Communication was via our 710 Repeater, providing continuous and immediate contact. Hutt Council provided us with specially made up first aid kits, with lots of plasters and bandages.
The day of the re-run of the event on 22nd April dawned clear and warm, and the trail was in the very best condition. Our Marshals enjoyed the sunny conditions while carrying out their duties, dispensing first aid to those riders who suffered abrasions from falls. A more serious spill was attended by Dejan ZL3AU, who hiked 1km from his station to attend a lady with serious lacerations. Dick ZL2TGQ, the roving Head Marshal, provided cover for Dejan's station. Courtney ZL2CRW, who only recently obtained his callsign, was attached as buddy to Rick ZL2TVY to learn about and to experience the role of Radio Marshal. At the completion of the event our Marshals visited and enjoyed the free sausage sizzle and entertainment at Hikoikoi Park, put on by Hutt Council.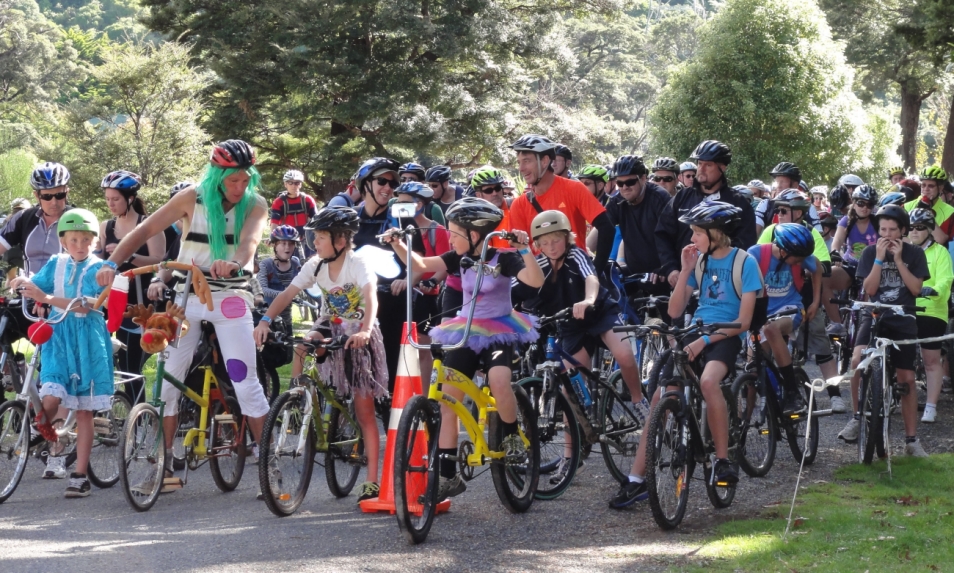 Over 1000 cyclists participated in Bike the Trail this year. Many cyclists acknowledged the help of our Marshals, and our "Amateur Radio Communications" brand got a lot of exposure. This was an opportunity for community service, for us to work as a team, to practice radio procedure, and to enjoy Amateur Radio.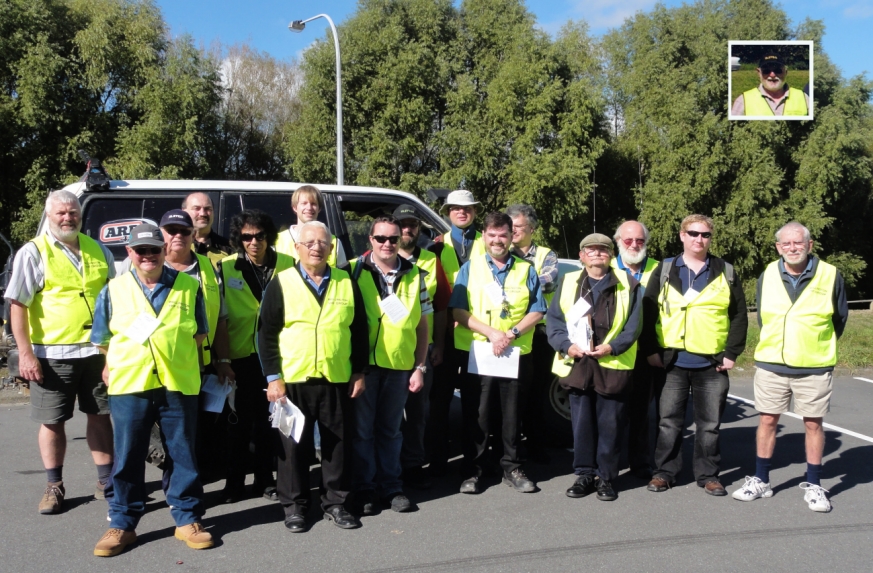 Radio Marshals at the pre-event briefing. (l to r) Paul ZL2UGR, John ZL2JDB, Ted ZL2TED, Randall ZL2RJP, Andy ZL2ADR, Björn ZL2KT, David ZL2SX, Rob ZL2WAL, Gavin ZL2TVM, Frank ZL2TTS, Rick ZL2TVY, Dejan ZL3AU, Courtney ZL2CRW, Tom ZL2TDD, Robin ZL4TRS, John ZL2AST. Absent, Peter ZL3TJ. (Inset, Dick ZL2TGQ, behind the camera).