Trustees Workshop – 7 November 2009
Wellington VHF Group Trustees came together for a technical workshop to famliarise with and to program the new IC-FR6000 analog/digital repeater destined for our new Ngaio Reservior site. After a concentrated effort on the new repeater, discussion turned to technical matters for our other sites as well. This all proved very worthwhile.
The repeater and circulator have been previously set-up and commissioned by John ZL4JY, with Gavin ZL2ACT aligning the duplexer. Thanks to both for their skills and effort, which is most appreciated by all.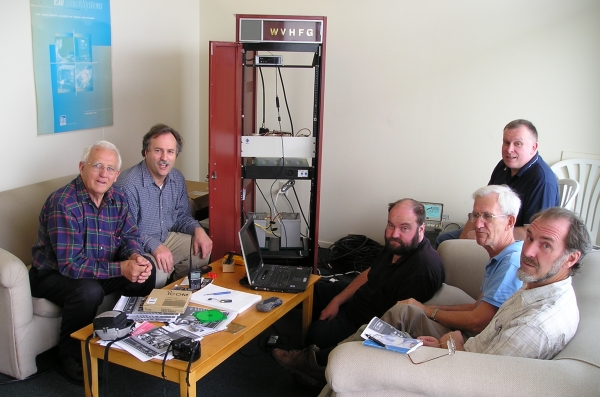 L to R, David ZL2SX, Steve ZL2KG, Gavin ZL2TVM, Peter ZL2VK, Paul ZL2BEZ (at back), Peter ZL3TC. Photo by Dick ZL2TGQ.
This new repeater, Ngaio 955, will be installed later in November, and an "Open Day" is planned, when members can inspect the site.